12 – had bombs strapped to them and blew themselves up at Diponegoro Indonesian Christian Church.
The family's sons – aged 16 and 18 – rode motorcycles into Santa Maria Catholic Church, and detonated explosives they were carrying. It was their attack that came first, at around 07:30 local time (00:30 GMT). The other two attacks followed five minutes apart, police said, according to the Jakarta Post.
Officials reportedly foiled attacks against other churches.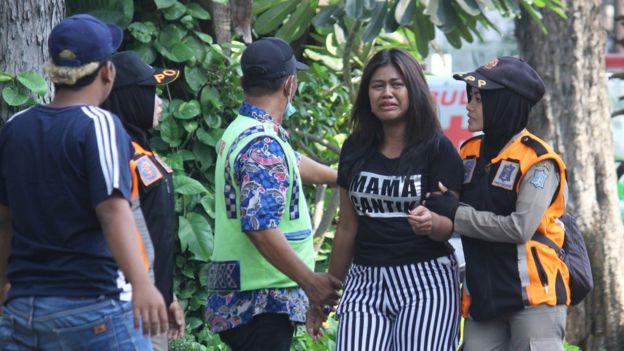 Visiting the scene of one of the bombings, President Joko Widodo described the attacks as "barbaric", adding that he had ordered police to "look into and break up networks of perpetrators".
Also on Sunday, police said they killed four suspected members of JAD in Cianjur, West Java, and arrested two others.

Rising intolerance
By BBC Indonesia Editor Rebecca Henschke
The blasts were co-ordinated to hit those coming to morning services and were over within the space of just 10 minutes.
In recent years women have become increasingly active in terrorist cells in Indonesia but this would be the first time children have been used.
Indonesia had been widely praised for its sustained anti-terrorism crackdown following the 2002 Bali bombings. It has managed a seemingly successful combination of arrests and killings, alongside a de-radicalisation program that focused on changing minds and providing alternative incomes for released terrorists.
But the rise of IS overseas has invigorated the loosely constituted jihadi networks.
There has also been rising intolerance in recent years in this once tolerant, pluralist, majority-Muslim nation, which has made minority groups increasingly uncomfortable.

How does this compare to previous attacks?
This appears to be the worst attack linked to IS in Indonesia.
The group claimed its first attack in the country in January 2016, when four civilians were killed in a series of explosions and shootings in the capital Jakarta.
It has also claimed other attacks, such as violence earlier this month in a high-security prison near Jakarta, in which five members of security forces were killed.
But the country's deadliest jihadist attacks predate IS.
In 2002, over 200 people were killed in two bombings carried out by al-Qaeda-linked militants outside a bar and nightclub on the island of Bali, a popular tourist destination.
In May 2005, bomb blasts killed 22 on the island of Sulawesi. Less than six months later, a suicide bombing in Bali killed 20.